Recent Posts
Categories
Archives
WifeSpeaks
My Feeds
Welcome Guests!
Meta
June 5, 2008
I have a confession to make.  There was a time that I was eating in sin.
  Not too long ago, our pantry had more than 50 cans of soda (Does the fact that their diet sodas make them less sinful?) and I even have proof to show for it…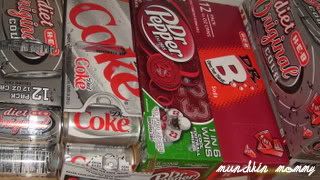 See?  There's a dozen soda in each box so we had more like 72 cans.  Hee hee.  Again, all diet!
  I love sweets, too.  In fact, the highlight of every meal, for me, is dessert.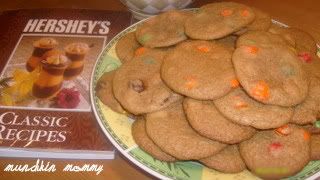 I just adore cookies, cakes, brownies, ice cream, chocolates, etc.  Should I have simply said I love sugar?  Hee hee.
And what household doesn't have chips?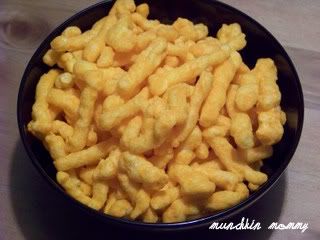 My favorites are the orange ones…Cheetos and Doritos.  Hubby has his own favorites, too.
What did I say again in the beginning of this post?  There was a time I WAS eating in sin.  WAS.  That's all in the past now.  Since January, I've stopped eating pork and beef.  Since February, I haven't been drinking soda, including diet soda.  And since two weeks ago, I haven't been eating sweets.  The funny thing is, I don't really miss the so-called bad food at all!  Still, just thinking about all the times I munched on these stuff makes me want to go for a colon cleanse.  It'll probably do me a lot of good to have all those toxins flushed out of my system.  Any thoughts on this?  My Mom has done it before.  Maybe I should, too.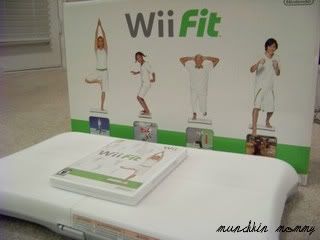 So what if I'm in my early 30s?!  I still want to play with real toys.  Hee hee.  Hubby got me a Wii Fit on the Saturday of Memorial Day Weekend.  To be honest, I thought I didn't want one at first.  But after I viewed the promotional dvd that hubby got from Circuit City a few weeks ago, I got very interested  and gladly gave in.
  No more playing hard to get!  Hee hee.  I can't believe how this new game was easily sold out in most stores.  Good thing we were able to snag one at good 'ol trusty Wal-Mart.
From the very first game, I was hooked.  There's aerobics, strength training, balance games and yoga.  My instant favorites are Hula-Hoop, Step and Tae Bo.  If you're into strength training and yoga, you can work with a virtual trainer, too!  I chose a male trainer and why not, hubby chose a female for himself?!
  And believe me, they can tell if you're working or not.  One time, I tried to do strength training and ambitiously chose to do push-ups.  I was never good at push-ups.  So with both my hands gripping each side of the balance board, I attempted to do push-ups…and failed miserably.  I had to let go of the balance board and sat down on the floor.  My virtual trainor actually said, "Hello?  Are you still there?"  I kid you not!  That really cracked me up!
I'm amazed at how a "toy" can measure one's BMI (body mass index) and weight accurately.  It also determines one's center of balance (COB).  I'm happy to announce that at my last body test on the Wii Fit, my Wii Fit age is 24.  How's that, huh?  Hee hee.
This toy will work well with people who have a hard time getting their butts off the couch.  It's a lot of fun and it will really get you moving.  If you want to get fit and needs something to start with at least, this will do you a lot of good.  It will keep you off the weight loss pills.  Promise.
Pag-iisang Dibdib ang tema ng Litratong Pinoy para sa linggong ito.  Larawang sana ng singsing naming mag-asawa ang ilalahok ko ngunit pakiwari ko'y marami rin ang gagawa nito.  Minabuti ko na lamang na litratong ng aking pinakapaboritong abay ang ipakita sa inyo…ang aking anak na si Abby.
This week's Litratong Pinoy theme is (Pag-iisang Dibdib) Weddings.  I was going to post a photo of our wedding rings but I'm guessing many will probably be doing the same.  So I'll just post photos of my most favorite flower girl ever…my daughter, Abby.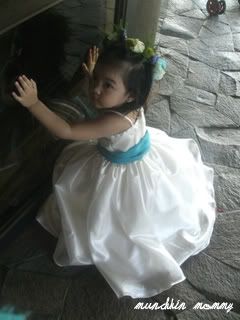 Marso nang nakaraang taon nang mag-abay si Abby sa kasal ng malapit kong kaibigan at ninang ni Abby sa binyag.  Dalawa't kalahating taong gulang pa lamang siya noon.
It was in March lat year when Abby became a flower girl for the very first time.  It was at the wedding of a very good friend of mine who is also Abby's baptismal godmother.  Abby was 2 1/2 years old that time.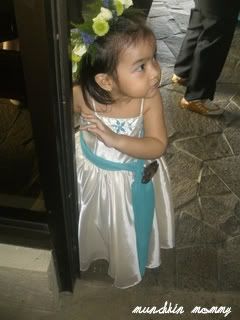 Dahil nga unang pagkakataon pa lamang niyang maging abay, talaga namang parang nabibighani siya sa mga kaganapan sa paligid niya.  At kitang-kita ito sa kaniyang mga mata.
Because it was her first time to be a flower girl, Abby seemed like she was in awe of everything that was going on around her.  You can see this in her eyes.
Inaamoy ba niya o tinitikman ang mga petals?  Inaamoy lang sana!
Is she smelling or tasting the petals?  I hope she's just smelling them!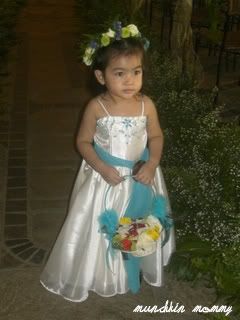 Mukha siyang naglakad mag-isa ano?  Kuha ito bago pa magsimula ang kasal.
She looks like she walked on her own, doesn't she?  This was taken before the wedding started.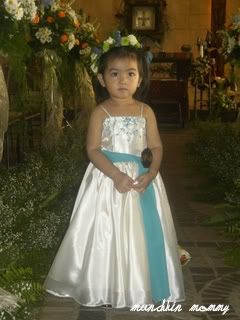 Nang si Abby na ang maglalakad papunta sa altar.  Tila siya'y natigilan.  Ayaw gumalaw at tinitignan niya lamang ang mga taong nakatingin rin sa kaniya.  Wala akong nagawa kungdi ang hawakan na lamang ang kamay niya at akayin siya sa paglalakad.  Mabuti na lamang din at di nagpabuhat!
  Kahit ano pa man, sa aking paningin, siya pa rin ang pinakamagandang abay.
When it was Abby's turn to walk down the aisle, she froze and wouldn't budge.  She was looking at the people, all of whom were looking at her, too.  I had no choice but to hold her by the hand and guide her towards the alter.  At least, she didn't ask to be carried.
  Nevertheless, in my eyes, she's still the most beautiful and precious flower girl ever.
May isa pa akong lahok DITO.  (I have another LP entry HERE.)