Recent Posts
Categories
Archives
WifeSpeaks
My Feeds
Welcome Guests!
Meta
July 31, 2008
A lot of people seem to be moving to and fro lately!  In our neighborhood alone, a number of our neighbors have moved out.  After some time, new neighbors moved in.  I have gotten quite accustomed to seeing a huge moving truck rental parked behind our house.  I think that happened twice last month!  Friends of ours from Abby's school will be moving back to Connecticut as soon as they sell their house.  We have other friends who have practically made a career out of moving (you know who you are! *waves*). 
Moving can be very stressful.  That's why every little detail that can ease the stress a little bit will be very helpful.  Those who are planning to move some time soon will be happy to know that there's such a thing as MovingOrbit.com.  Through this site, one can get quotes from a number of moving companies for a variety of moving services, quickly and for free!  That's stress deduction right there!  Hee hee.  It's definitely worth checking out!
Gracie tagged me for this meme.  Thanks, Gracie!
The rules:
a. List these rules on your blog.
b. Share 7 facts about yourself on your blog.
c. Tag 7 people at the end of your post by leaving their names as well as links to their blogs.  You'll have to read on for my 7 facts and see who i tagged.
Here are 7 facts about me:
1.  All throughout my school life (read: gradeschool to university), I was grade conscious, which lead me to graduate with "second honors" in grade school and "cum laude" in college.
  High school will always be a big disappointment because just like the non-winners in "The Weakest Link", come graduation day, I went home with NOTHING.  Ugh!  Huhuhu.
2.  Before I left the Philippines in May 2007, I've been going to the same hairstylist since 1998.
  His name is Matt and his from the Peninsula Manila's Emphasis Salon, formerly Rodger Craig.
3.  I did not "touch" my eyebrows until I was the ripe old age of 23.  Hee hee.  I felt like a woman after I had my first ever waxing.  Ooooouch!
4.  I looooove Japanese food, which is why since high school, I've believed I must be Japanese in one of my former lives.
5.  I gave birth to Abby via C-section after 10 hours of epidural free labor.  O ha?  What can I say?  I'm masochistic.
6.  I married my first boyfriend after more than 8 years of "couplehood".
7.  As much as I possibly can, I think happy thoughts.
Whew!  I am tagging Meeya, Abby, Em, Dang, Cez, Ela and Nell. 
No, I didn't make a mistake and accidently posted an entry meant for my food blog, Cafe Munchkin.  Hee hee. 
  Just let me be. 
My family loves seafood, as in each and everyone of us.  Crabs, shrimps, mussels, fish, just drive us nuts!  We prefer to have them steamed or grilled without any over powering ingredients.  A dash of salt and some lemon usually is enough for us. 
That said, when we went to Truluck's some time in February, we ordered seafood exactly the way we wanted them.   My mom had Fresh Steamed Pacific Northwest Dungeness Crab served with Truluck's rice and steamed broccoli.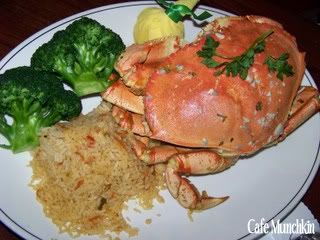 And for my daughter's enjoyment, we ordered Shrimp Cocktail.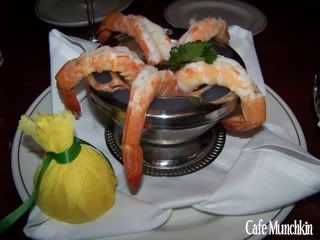 Wanting our seafood steamed or grilled doesn't mean we're not adventurous.  We actually are!  Every now and then, we go out of our comfort zone and sample seafood with megadoses of other ingredients.  Hee hee.  If I could, I would head down to Louisiana for the Great American Seafood Cook off on Aug 2-3 at the New Orleans Morial Convention Center within the Louisiana Foodservice EXPO and the Gulf Coast Seafood Pavilion.  Now that, would be exciting!  I hear it's going to be a display of the "positiveness of domestic seafood sustainability." :D I could only dream of being part of such an event, and I mean as a cook.
Do you have a particularly interesting way of cooking seafood?  I'd love to hear it!
July 30, 2008
No thanks to this book, I am now in dire need of an acne cream.  I read it last Sunday and didn't go to sleep until I finished it at 4am (Monday).  I am no book critic, but I will boldly declare that I enjoyed this book immensely.  It was just hilarious!  I was reading it while Hubby and Abby were swimming in the community pool and I couldn't help laughing out loud!  I just love it when books make me laugh like crazy! 
Here's the book's description (as taken from the Borders website):
With the same wicked humor, buoyant charm, and optimism that have made her Shopaholic novels beloved international bestsellers, Sophie Kinsella delivers a hilarious new novel and an unforgettable new character. Meet Emma Corrigan, a young woman with a huge heart, an irrepressible spirit, and a few little secrets:
 
Secrets from her mother: Sammy the goldfish in my parents' kitchen is not the same goldfish that Mum gave me to look after when she and Dad were in Egypt.

Secrets from her boyfriend: I've always thought Connor looks a bit like Ken. As in Barbie and Ken.
From her colleagues: When Artemis really annoys me, I feed her plant orange juice. (Which is pretty much every day.) It was me who jammed the copier that time. In fact, all the times.
Secrets she wouldn't share with anyone in the world:
My G-string is hurting me.Until she spills them all to a handsome stranger on a plane. At least, she thought he was a stranger.
But come Monday morning, Emma's office is abuzz about the arrival of Jack Harper, the company's elusive CEO. Suddenly Emma is face-to-face with the stranger from the plane, a man who knows every single humiliating detail about her. Things couldn't possibly get worse–Until they do.
I would highly recommend this book if you want to drown your worries.  We all need a good laugh.
We live very near a golf course…so ridiculously near!
  Neighbors loading their Titleist golf sets onto the trunks of their cars is quite a common sight.  Hubby has two sets of 2nd hand golf clubs, gifts from his former colleagues. I've been encouraging him to take up golf or even just an hour or two at the driving range for a start.  Wives of avid golfers are probably shaking their heads at me right now.  Hee hee.
  I just believe that golf might really come in handy.  All of Hubby's former bosses are golf fanatics and the present ones are just as crazy over the sport.  If Hubby dreams of becoming a boss one day, then he has to play the sport, too!  Am I right, or am I right?
Newer Posts »