Recent Posts
Categories
Archives
WifeSpeaks
My Feeds
Welcome Guests!
Meta
August 10, 2008
Our trip to California last month was both Abby's and my first plane ride after moving to Texas. On our trip to Austin from the Philippines, Abby insisted on sitting on my lap during take off and landing, much to the dismay of Continental's flight attendants. I'm just glad that was no longer the case. She sat by the window and asked, "Are we there yet?" every 5 minutes. Her portable  DVD player kept her entertained for the most part of the trip. Thank God for direct flights! Hee hee.

A few minutes before boarding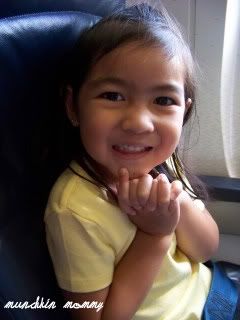 Prim and proper and excited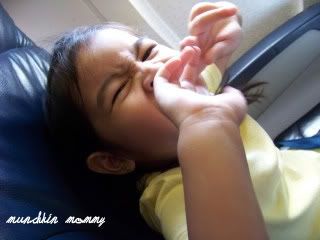 I may have spoken too soon!
It felt good to be up in the air again.  I hope the next time won't take another year to come around!
Hungry?  Share a meal with me here, my other WS entry.
Have a wonderful week!
5 Comments »
[...] Fly with Abby here, my other WS entry. Have a great week ahead!  Fast Food, Weekend Snapshot | [...]

Pingback by WS #22: Jollibee at Cafe Munchkin — August 11, 2008 @ 12:06 am

Thank God too for portable DVD players. At least that kept her on her seat.

[Reply]

at behaved na behaved ang little girl mo ha. mahilig din sa pasyal like amelie.

[Reply]

Ang cute. In the first pic,she looked like a seasoned traveler

How are you Weng, it has been a while.

[Reply]
RSS feed for comments on this post. TrackBack URL
Leave a comment