Recent Posts
Categories
Archives
WifeSpeaks
My Feeds
Welcome Guests!
Meta
September 15, 2008
Saturday could very well be dubbed "S'mores Saturday" at our home.  Abby has been wanting to make some ever since she learned how to in school.  Alas, for lack of better things to do and interesting dessert to eat, I relented.  Hee hee.  We had Chocolate Lover's S'more after lunch and after dinner.
Here's Abby after lunch…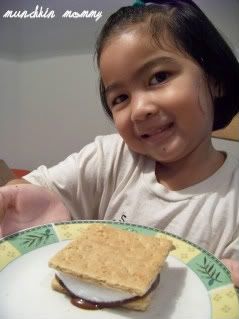 Awww, how sweet!  See, she knows how to share!  Hee hee.
After she finished her S'mores, Abby wiped the melted chocolate off the plates with a marshmallow or two or three.
And here's Abby after dinner…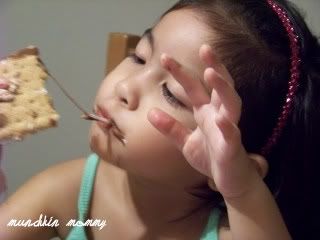 Stringy chocolatey marshmallow!  Yummeeee!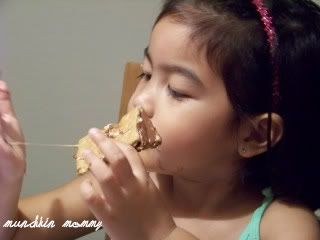 Uh-oh!  Sticky, too!
The recipe can be found HERE, my other WS entry.  Making S'mores is a very child friendly kitchen activity.  So Moms, have a little fun with the kids in the kitchen!
Have a great week ahead!
8 Comments »
[...] are some more S'mores, my other WS [...]

Pingback by WS #26: Chocolate Lover's S'mores at Cafe Munchkin — September 15, 2008 @ 12:11 am

Oh wow.. that's what I love about kids when they eat… they could care less about anything. Great pictures!

My WS entries are posted here and here. Have a great week ahead!

FamiliaKhuletzs last blog post..Momskie Turns 59!

[Reply]

Comment by FamiliaKhuletz — September 15, 2008 @ 2:10 am

Oh! she looks cute!

i Shares last blog post..Kesava Temple at Somnathpur

[Reply]

ok you have 2 sites right? the other is the one feautring the recipe of s'mores?

[Reply]

Yumminess! I'm getting hungry here!

Tere {Blessings in Life}s last blog post..Wild Purple Flower

[Reply]

Comment by Tere {Blessings in Life} — September 15, 2008 @ 5:33 am

Uyy enjoy na enjoy sa pagkain si Abby mo….

JoyDs last blog post..Powerhouse Museum (Weekend Snapshot)

[Reply]

Kids and smores always go together

Cookies last blog post..Weekend Snapshot : Comfort Food

[Reply]

your girl is cute…

Mine is up HERE

jeannes last blog post..Weekend Snapshot : Amusement Park

[Reply]
RSS feed for comments on this post. TrackBack URL
Leave a comment