Recent Posts
Categories
Archives
WifeSpeaks
My Feeds
Welcome Guests!
Meta
October 1, 2008
Who can tell me what the following three pictures have in common?  First person to give a correct answer gets a…bag of beans!  Hee hee.  Kidding.

Baby Back Ribs from Countyline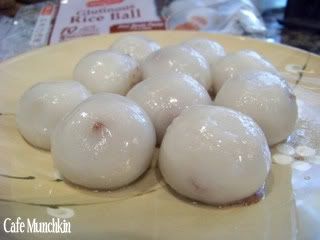 Glutinouse Rice Balls with Red Bean Paste Filling

TexMex feast from Papapasito's
Give up?  All photos have "beans".  Hee hee.  Hubby is so not fond of beans, whatever the shape, size or color – red or green?.  I guess green bean casserole is out of this week's menu. Hee hee.
One chore, which to me really spells CHORE (take note, all caps!)  is floor cleaning.  If I can avoid doing it, I honestly would  That goes for both vacuuming and mopping.  But between vacuuming and floormopping, I would take vacuuming anytime!  I wonder if I'd still feel this way if I had one of those Ladybug steam cleaners?  The all important question is, where will I get the thousand bucks (at the very least!) to buy me one?!  *sigh*  I shall now go back to moping…mopping, I meant.
Ito ang aking laptop.  Nagpapahinga siya kasi sira. Hee hee.
(This is my laptop.  It's resting rather comfortably on the bed because it's kaputt – not working.)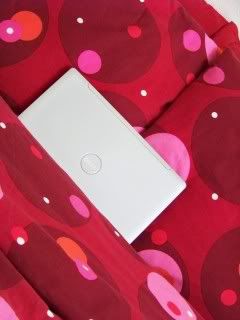 Gusto ko ito dahil ang daming USB ports, my built in card reader at may wifi at bluetooth.  Kaya naman bumigay na sa sobrang pagtatrabaho para sa akin.
  Di bale, papalitan daw ni mister ang hard drive.  Yehey!
(Even though I complain so much that this laptop isn't fast enough for me, I like it just the same.  It has a number of USB ports, a built-in card reader, bluetooth and wifi.  I must have overworked it too much that's why it gave up on me.
  Anyway, hubby promised to replace the hard drive.)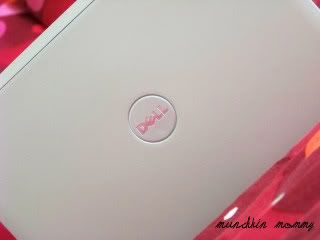 Narito ang Desktop na ginagamit ko ngayon, ang  isa ko pang lahok para sa Litratong Pinoy.
(Here is my Desktop…my other Litratong Pinoy entry.)
Mabuhay!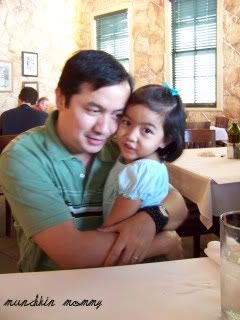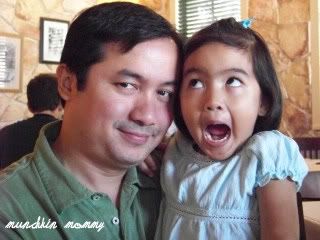 New York Cheesecake with Caramel Fudge (from Romano's Macaroni Grill) is my other WW entry.
Happy Wednesday!  Cheers!