Recent Posts
Categories
Archives
WifeSpeaks
My Feeds
Welcome Guests!
Meta
October 11, 2008
Ahhh, true love.  They say we have a once in a lifetime chance to find it, or better yet, for it to find us.  Some are content to do just that…wait.  While some seem to be on a mission to find it!  The pressure sets in, when, one by one, friends find theirs.  It doesn't help one's case when those friends start getting married.  Do the words "always the bridesmaid" ring a bell?  How about "always the groomsman"?
I know some people who have gone through great lengths for that one shot at true love.  One even went so far as to have a nose job to increase her "marketability". *wink*  Some have fallen victim to friends' matchmaking schemes, gone to blind dates, and who knows what else?!  And then there are those who have found love online.  I wouldn't have believed it were possible, but yes, I know couples who made their connection in cyberspace.
If you are one of those people who are open to the possibility of finding true love online then you just might want to check out True.com.  True.com is a dating and relationship service, which is endorsed by Psychology Today.  It is the only internet dating service, which conducts criminal background screening and Single Certification.  So there is a slim chance, if none at all, that you'll end up being conned by a married man.  You can sign up and search for free!  You might just find mr. or miss right, right now.  Good luck!
I think so!  And Hubby thinks so, too!  First, the tools of the trade…
I got all of these from Walmart – non-toxic paint for face painting and paint brushes of different sizes.
It was on September 21st when Abby and I had our first arm painting session at home.  This was the result, which I posted in one of my Weekend Snapshot entries…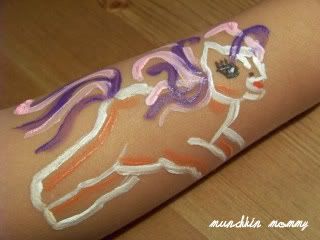 Almost everyday, Abby and I would sit down for an arm painting session as her reward for a good day in school.  Abby often requested that I paint a pony on her arm and this was the last one I did…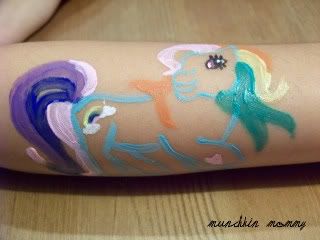 I have to say that I was very pleased with it.  Practice does make perfect, if I say so myself.
It's been two weeks since our last arm painting session.  Abby seems to have forgotten all about it already.  Hee hee.