Recent Posts
Categories
Archives
WifeSpeaks
My Feeds
Welcome Guests!
Meta
November 10, 2008
Last Saturday, we travelled back in time.  How far back?  All the way back to the Renaissance Period. *wink*  We should have brought back something tangible as proof.  All I managed to do was take a few snapshots of what would have been some very nice memorabilia.  These will have to do.
Are you fond of action-packed period movies?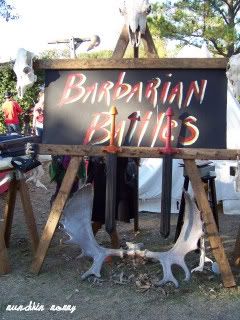 Then you just might love these!  Hee hee.  You wouldn't wanna get whacked with these!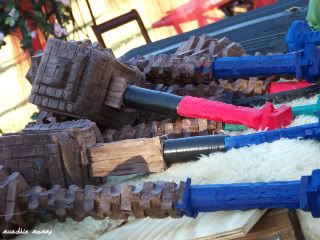 If you're into sword fights, then these are perfect!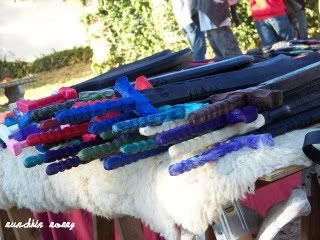 They're made of some kind of foam.  Hee hee.
And for ye ladies, how about some potions?  You can wear them as a pendant.
Now don't go casting evil spells!
These would all make for cool promotional business gifts, don't you think?  These pics were taken at the Texas Renaissance Festival.  I haven't finished uploading photos yet.  I shall post some more photos in the coming days.
My one and only brother is a Health and Safety consultant and has been teaching the course for quite some time now.  Some time in May, an incident that happened in our neighborhood inspired him to start a blog, Health and Safety with CLED (healthnsafety(at)blogspot(dot)com).  It's just too bad that he doesn't get to update it all that much due to his busy schedule.
The blogosphere is already brimming with blogs about travel, home and living, personal journals, food, parenting, photos and the like.  We need more blogs on health and safety which is a broad subject matter, such as health and safety topics for the home, work place and the outdoors.  And what about topics on Safety Equipment, Fire Resistant Clothing, Fire Resistant Safety Equipment, and Safety Supplies?  We all could and would benefit from useful articles/entries on these topics.
I wish my brother would update his blog more often.  He has so far only written 3 articles on fire and flood safety.  Mind you, they are quality posts and I don't say that because I'm the big sister.  Hee hee.  Calling on dear brother…update, update, update!