Recent Posts
Categories
Archives
WifeSpeaks
My Feeds
Welcome Guests!
Meta
November 24, 2008
Spectrotel is a leading New Jersey-based telecommunications provider of internet, long distance and local telephone services for small and mid-sized business through the Untied States.  It was founded in 1996.  Local, long distance, data and Internet services are the company's business and residential solutions.
Spectrotel offers: (1) competitive pricing; (2) reliability; (3) unequaled customer care; (4) one easy-to-read invoice; and (5) online billing.  The company is backed up further by these impressive stats:
90% of customers recommend Spectrotel to others
99% of customer service calls are answered
80% of calls received are answered in < 30 seconds
Recently, Spectrotel's already robust product set was significantly expanded to include a full suite of T-1 based services that includes dedicated voice, data and Internet. This move enables their agent sales force to provide enterprise-class service, reliability and performance that were not available to smaller business customers before.
Towards the end of October, the company announced , too, that it will expand its services into Illinois. Spectrotel will initially focus on small to medium-size businesses and soon follow with a residential product.
This is my old laptop.  It hasn't been working for some time now.  I don't know if the problem is the the hard drive, computer memory, or another part I know nothing about.  I'd like to have a new one but come to think of it, I'd probably end up sleeping even less than I do now.  Hee hee.  Nevertheless, I'm keeping a close watch on Black Friday laptop deals.  Who knows, there might be an irresistable offer somewhere.
Most of the time, a company's top executive, say the CEO or Chairman of the Board of Directors, are themselves the owner of the company.  But when it comes to bigger and multinational corporations, that is not always the case.  Some, after years of hard work, have risen from the ranks and proved themselves worthy to become top honcho.
Then again, there are people from outside the company who snag the top post.  My first thought would be they were probably pirated until I learned that there's such a thing as "top executive recruitment".  One expert in the field of CEO and corporate director recruiment is Dennis Carey.  Here's a short video slide of sorts by Dennis C Carey on CEO Succession.
As it is, entry-level manpower recruitment is challenging.  But when a company looks to fill a top exec post, the challenge more than doubles.  So be sure an expert is on board to see to the nitty gritty of top executive recruitment.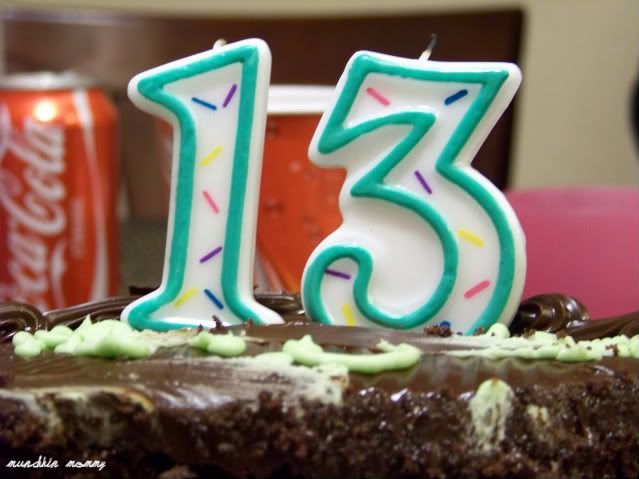 I have a dear friend, Aileen (who is more like a big sister to me!) whose eldest daughter, Winona,  turned 13 last Friday.  We had a double celebration for Winona and my hubby, who turned a year wiser yesterday, last Saturday evening.
It must feel kind of surreal when your child enters the teenage years. It will seem not so long ago when she was in diapers and you worried about crib beddings and potty training, etc.  As our child grows older, the things we worry about change, too.
So what should I prepare myself for when my daughter, who is now 4, becomes a teenager?  Boys?  Peer pressure?  I hope we raise her well enough to make the right choices. *sigh*
I remember having a silly conversation with hubby a while back about future beauty concerns.  I teasingly made him promise that when I'm older, he is to take care of the treatments I might need so I will still look "decent" as I age.  I was thinking along the lines of dermatologist visits and maybe botox.  Hee hee.  And in return, I will be behind him one hundred percent should he need hair treatments, say hair weave or hair transplant, that will allow him to keep a healthy, well, head.  Fair deal, don't you think?  Well, as I said, we were just being silly.  But if we do have the means in the future, why not?  Just nothing too drastic.
And speaking of hair transplants, do you have a clue on the pricing of a hair transplant procedure? I hear that on the average, the range is from $2500 to $9000. That depends, of course, on a person's hair loss situation and realistic expectations.  But if it were to be believed that some tend to spend $10,000.00 a year on non-surgical procedures like potions, hair weaves and the like, it's no wonder people find the idea of a hair transplant attractive.
Oh well, I hope we won't have to worry about these things anytime soon.