Recent Posts
Categories
Archives
WifeSpeaks
My Feeds
Welcome Guests!
Meta
December 17, 2008
The moon was at its most beautiful last Friday and I made sure I captured it on camera.  I've always wanted to take photos of the moon but I'm usually inside the car and couldn't take a decent photo.  This time around, I asked Hubby to park for a few minutes at the commercial complex very near our home.
I took lots of photos and I'd like to share some of them with you.  That night, the roof of our car served as my tripod.  Hee hee.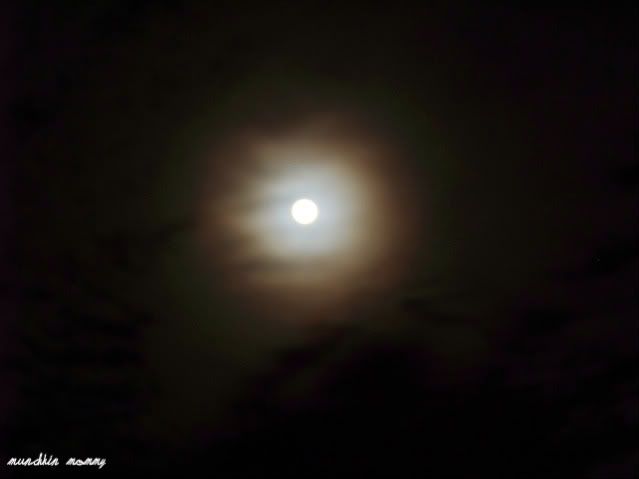 Egg in the sky…sunny-side-up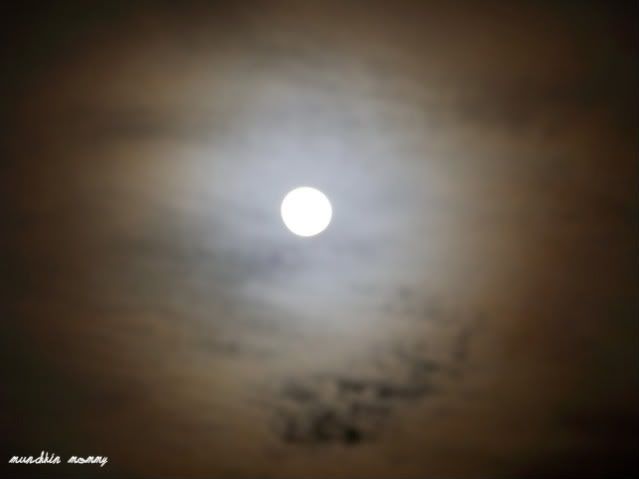 It was a cloudy night and I'm glad I had a perfectly clear view of the moon.  But it didn't take long for the clouds to cover the moon.
I didn't edit any of these shots, just so you know.
This is the cue for the wolves to start howling.  Hee hee.
This was probably one of the rare times that I wished I had a more powerful camera and a more powerful zoom.  I used my trusty full featured P&S camera to take these shots.
Next time you have the itch to take moon shots, pull over for a few minutes and park legally. It's safer that way.  Your  car insurance provider will thank you for it. Haha!
I have another WW entry:  Kerbey Lane Cafe
5 Comments »
[...] My other WW entry: Shooting for the Moon [...]

Pingback by Cafe Munchkin » WW #39: Kerbey Lane Cafe — December 17, 2008 @ 1:43 am

Fantastic lunar shots!

I have found taking night-time photos to be challenging with my digital camera, even in the presence of a full moon. So well done getting such detail in yours.

CatSynths last blog post..Wordless Wednesday: The Great Hall

[Reply]

Nice shots!
They are beautiful.

fats last blog post..Wordless Wednesday: Rainbow Connection

[Reply]

What an amazing sky! Great captures. Happy WW!

Bonds, Elizabeth Bonds.s last blog post..Wordless Wednesday

[Reply]

Comment by Bonds, Elizabeth Bonds. — December 17, 2008 @ 5:53 am
RSS feed for comments on this post. TrackBack URL
Leave a comment