May 2013
S
M
T
W
T
F
S
« Apr
1
2
3
4
5
6
7
8
9
10
11
12
13
14
15
16
17
18
19
20
21
22
23
24
25
26
27
28
29
30
31
Recent Posts
Categories
Archives
WifeSpeaks
My Feeds
Welcome Guests!
Meta
August 23, 2009
Last week, my little girl celebrated her 5th birthday.  Five.   Definitely no longer a baby (at least, that's what she says!) and definitely still too young to be worrying about cheap term life insurance rates .   In fact, she could have planned her birthday party on her own.  She knew what kind of party she wanted.  She practically dictated upon me how her birthday cake should look like!  But nah.  She is and will always be my baby. Enough said.
July 31, 2009
It's July 31st today and until I've used up all the gift cards I received, I'll feel I'm still celebrating my birthday.  Come to think of it, every day should be a celebration!  One of the gorgeous gifts I received for my birthday is this purple beauty…
I'm not overly fond of naming things, but this gorgeous purple thing, I named Elizabeth.  It's a beautiful name, which also happens to be the name of the dear friend who gave me this orchid.
  Elizabeth (my friend) and I have been friends way back when acne products were the least of our worries.  That would be grade school.  We lost touch for a very long time, say, 19 years and hooked up again here in the great state of TX.  It's a small world after all.  Cheers to friendship!  Cheers to birthdays!  Cheers to gifts!
July 8, 2009
That wasn't a typo. 
  The community where we live always holds a fireworks display on the eve of the 4th of July.  I just love and never tire of watching fireworks.  I think they're the most fascinating outdoor lighting, if they can be considered as such.
The fireworks lasted for about 30 minutes, more or less.  Here's a slideshow of the most decent photos I was able to take that night.  Cheers!
May 17, 2009
It was my brother's birthday last May 14.  He is younger than I am but definitely not anymore the "little" brother.  Hee hee.  I promised him a birthday cake.  I thought it was just right that I made him one even if we're thousands of miles apart.  For one, I've made cakes for a number of  friends already.  I've also made cakes for my little girl's teachers.
To set my brother's cake apart from the ones I've done previously, I made him sometime totally different from what I usually bake and decorate…ICE CREAM CAKE!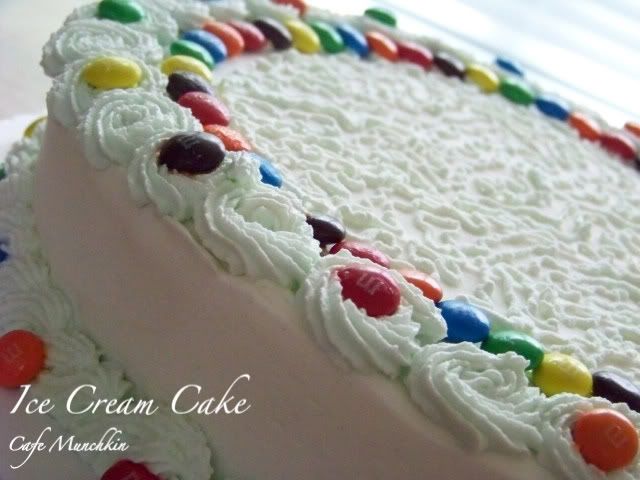 You can read more about the ice cream cake HERE.  There are three flavors of ice cream in there plus whipped cream and M&Ms.  I won't be surprised if one ends up reading about the top 10 diet pills after having a slice…or two…or three.  One thing's for sure, I'm not buying ice cream cake for a novely ice cream shop or whoever is selling them anytime soon.  Hee hee.
May 14, 2009
My daughter, precocious as she is, is without a doubt, the sweetest.  Just when I thought she has given me the best surprises a mother could ever imagine receiving from a 4-year old, there was another surprise waiting for me at her class' bulletin board the day after Mother's Day…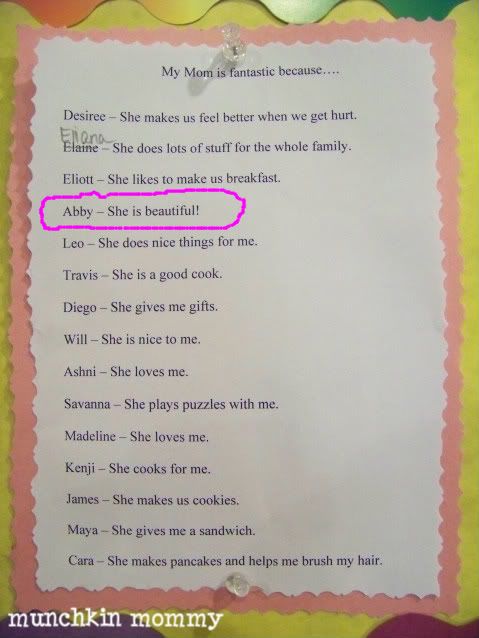 Now do you agree with me that my little girl is sweet?  This gift is better than receiving the latest "it" bag, or the most expensive jewelry.  Then again, that's just me.
You're beautiful, too, my Little Munchkin…a million times more beautiful than mommy. *mwah*
« Older Posts
—
Newer Posts »