May 2013
S
M
T
W
T
F
S
« Apr
1
2
3
4
5
6
7
8
9
10
11
12
13
14
15
16
17
18
19
20
21
22
23
24
25
26
27
28
29
30
31
Recent Posts
Categories
Archives
WifeSpeaks
My Feeds
Welcome Guests!
Meta
November 30, 2009
I didn't know that there was such a thing as a Masters of Science in Information Security until I was asked to look into Lewis University, which offers the course online.
I have a number of friends who are in the IT field, some of whom are graduates of Catholic universities in the Philippines, one of which is De La Salle University (DLSU).  The DLSU grads would be happy to know that Lewis Univeristy is a Catholic and La Sallian university!
I am all for continuing education.  When I was in college, I planned on taking a master's degree.  But I was led to a different "calling".  Anyway, anyone who has the opportunity to advance in his field should grab it, be it through a master's degree or other training courses.  Almost always, however,  money and lack of time are the reasons one can't go for it.  The option to take a master's degree online is definitely a convenient and more affordable option.
It's safe to say that Information Security Masters are in demand right now, or at least well on their way to being such. Technology is advancing at a pace that we could barely keep up with it. With technological advances come a lot of challenges, one of which is security. And becoming a Master of Information Security is an option IT professionals should look into.
One word of caution, be sure to learn as much as you possibly can about the university (online and otherwise) you intend to enroll at…the teaching staff, accreditation, etc.  Hopefully, that will keep you from wasting precious time and money.
*This is a sponsored post.*
January 12, 2009
I hope you've all already fully recovered, or at least, well on the way to full recovery after all that holiday and post holiday sale shopping.  Why?  Because in a couple of weeks, you'll be worrying about presents again, for Valentine's Day, in case you've forgotten.
Sorry to burst your bubble!  Hee hee.
So, what's it going to be?  Flowers?  Chocolates?  Jewelry?  Wrist watch?  If you're considering giving your special someone the gift of time, one website you can check out is Kenmar Watches.  They have a huge selection of wrist watches, from luxury name brands to ones which you probably haven't heard before but might become a household name before you know it. Gucci, Tissot, Calvin Klein, and Suunto watches are just some of the brands from Kenmar's very long list.
You can shop according to price, style or color.  I was exploring the site and clicked on "unique" and found these two watches, which are unique all right, so much so that they are included in the Metropolitan Museum of Art.

Nooka Zotzubr Zub Mens Watch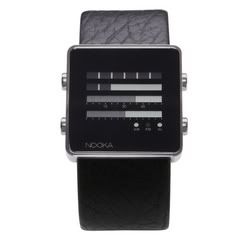 Nooka Zenhnhb Zen-h Mens Watch
What do you think?  I, personally, will just have to stick to the "traditional" watches with the second and minute hands.  But I won't judge you if you like museum pieces.
  Promise!
December 3, 2008
Are you a freelance writer?  You'd be pleased to know that through Dragon Naturally Speaking, you'll have the great opportunity to earn more!  Watch this video and you'll find out how.

This is an excerpt from a white paper discussing how bloggers can earn more money through several different monetization and freelance writing services. It shows that bloggers that utilize Dragon Naturally Speaking can earn more money through these various services and how fast these extra earnings will pay for the software itself.

Dragon Naturally Speaking 10 Blogger Break Even Analysis with TextBroker.com Earnings

I would like to walk you through several different scenarios to help all of us understand better what our words are worth.
I would like to start first by talking about a company that pays people to write. They pay them to write based on the number of words that are written. The company is called text broker.com and they are out of Germany and relatively new. I'm starting with TextBroker.com because the business model is very simple. The models will get more complex as I go through some of the other popular blog revenue sources.

Text broker.com will pay a person approximately 7/10 of a cent for a single word. They charge their customers approximately 1 penny per word. And they sell this service at increments starting at 100 words and go up from there.
That's what they do; now let's see how Dragon Naturally Speaking can pay for itself!
So, I'd really like to talk about how much you can earn from them based on how fast you type.
If you type 35 words per minute, and you typed for 50 minutes straight, you could theoretically type 1750 words.
Now at seven tenths of a penny per word, that work would be $12.25 per hour assuming that you take a ten minute break every hour. If you work four hours a day doing this, that would be forty-nine dollars per day.
If you could type 105 words per minute, that would be 5250 words in a fifty minute period of time. At that rate, you would earn $36.75 per hour assuming the same ten minute breaks every hour.

Obviously you can earn more if you can type faster.
If you could type 150 words per minute, then under this formula you could earn $52.50 per hour. That's almost 5 times more than you can earn if you type thirty-five words per hour.
So in this example there is definitely a value in typing faster!
There is a cost associated with being able to type as fast as well. You could go and take a typing class and learn how to type 150 words per minute. That might take you many months of school, and many years of practice.
It's also possible, that you may never be able to achieve that speed with your fingers.
Alternatively, you could buy Dragon NaturallySpeaking and be able to do it before the night was out. Dragon NaturallySpeaking costs $99 for the basic version and $199 for the preferred version.
As I write this, there are coupon code or discount code offers that you can use to save more money off that price. The coupon codes vary from $25-$50 off the price. Typically a bigger discount is offered for the preferred version, which I use myself.
Now in our example, if you bought Dragon NaturallySpeaking for ninety-nine dollars, and you did not use the coupon code to save twenty-five dollars, you would be able type 150 words per minute, and if you could previously type 35 words per minute, then based on the extra money that you could earn by typing faster, you would be able to pay for Dragon NaturallySpeaking in less than three hours of work using textbroker.com.
It kind of seems like a no-brainer. In many ways, it is a no-brainer with one exception. Not everybody writes for textbroker.com.
If you consider how much additional money you might earn by using Dragon NaturallySpeaking, and consider how much more work you could do by being able to type at 150 words per minute, then you might be able to figure out how long it will take you to pay off the software with your earnings.
I will cover a number of other situations, which will highlight this using other examples where people that typically write a great deal, could benefit from using Dragon NaturallySpeaking.
If you have an example that you would like to share, please let me know, and I will be more than happy to share it with everyone.
The full white paper is available here.
Nuance is allowing us to offer our readers a 25% Discount Coupon CODE Exclusive for Dragon Naturally Speaking, but you must click the image below and use this code (DNSMSBG) Together. Code will not work from other sources:
If you really want to earn more, then it might help if you Get Dragon Naturally Speaking using Discount code DNSMBG…NOW!  There are also other irresistable promotions that you can avail of as follows:
25% off Dragon NaturallySpeaking 10 Preferred
25% off Dragon Naturally Speaking 10 Standard
10% off MacSpeech Dictate
December 2, 2008
I just asked Abby if she wants to go to the mall one of these days and have her photo taken with Santa, you know, the sit on Santa's lap thingy.  I was surprised she said yes.  The last time we were at the mall, she didn't want to do it.  Fickleminded little girl!
I don't recall ever sitting on Santa's lap when I was still a little girl.  So, just a few minutes ago, I went ahead and sat on Santa's lap, albeit virtually. It's better late than never!  And since I was already there anyway, I went ahead and whispered what I wanted for Christmas.  It's now been entered into his list.  Yipee!
You're curious aren't you!  You must want to go sit on Santa's lap and whisper your secret Christmas wish, too!  Ok, I'll tell you.  It was via a digital photo frame called Ceiva.  I went to this site, which is Santa's address on the web, uploaded a pic of myself, typed my secret wish and voila!  That simple!  Ceiva is a unique digital photo frame in that you can send photos anywhere you are via phone or the computer.  People who aren't very well versed with the way of the computer world will appreciate this very much.
Since I was there already, I also entered the Got a Wish Sweeepstakes. Everyday until December 24th, one winner will be drawn for a $500 prize.  It'll be the coolest thing if I got my wish and won the sweepstakes, too! 
Did you get your fill of black friday and cyber monday shopping?  I won't be surprised if you didn't.  There's only so much shopping one can do and with the amount of great deals that were available, both on-line and in-store, in almost all stores in the United States. I'm almost sure a lot of people felt they still missed a lot.  Are you one of them?  I am!  Hee hee.
But for Charter Communications, the great deals didn't stop on black friday and cyber monday.  In fact, they don't  end until the 5th of December!  And we're talking about their best offer of the year here!
Here's the deal, when you order Charter's Ultimate Bundle online, or any of the Charter services for that matter, you will get a free gift card with your order as long as you do it between now and the 5th of December.  Isn't that sweet?!
The Charter Communications Ultimate Service Bundle, which is worth $165.97, gets you the following:
High Speed:
10 Mbps High Speed
TV:
Digital Home
Charter HD
Sports View
Digital View
HBO/Cinemax
Starz/Encore
Showtime/The Movie Channel
Phone:
Unlimited Calling
With your purchase, you also get a $250 Gift card and a sweepstakes entry for a chance to win an X-Box 360 game console!
But if you don't really need the Ultimate Bundle, you can choose the package that best suits you from among Charter's other services and still be eligible to receive a gift card with your purchase: 1 Charter service = $25 giftcard; 2 Charter services = $75 gift card; and3 Charter Services = $150 gift card.
So be sure to check out and take advantage of  these great deals!
To sign up for any of Charter's services, click here .
For complete X-Box Sweepstakes Rules go to https://connect.charter.com/XBox/rules.html
Newer Posts »